Together We Can End Homelessness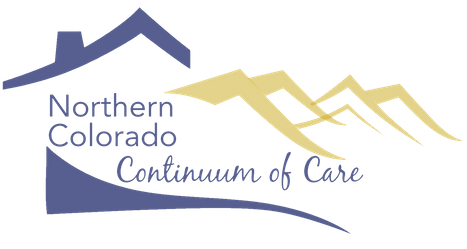 What is a Continuum of Care?
Continuums of Care (CoC) are federally designated regions tasked to promote community wide commitment to the goal of ending homelessness. One of four CoC's in Colorado, the Northern Colorado Continuum of Care (NoCO CoC) covers Larimer and Weld Counties, and works diligently to coordinate the regions policies, strategies, and activities for quickly rehousing individuals and families, aligning homeless funding objectives, and promoting equitable access to housing resources through Housing First best practices.
History of NoCO CoC
After many years of being designated as a sub-region within the Balance of State CoC, in 2018, the Voting Membership of the NoCO CoC voted to pursue the formation of a distinct Northern Colorado Continuum of Care. The NoCO CoC was recognized by the Housing and Urban Development Department (HUD) as its own Continuum of Care region (CO-505) in January 2020. This was only the third time a region successfully petitioned HUD to become a new Continuum of Care. Being designated as an independent CoC by HUD allows more local control to set priorities and strategy on homelessness as well as opportunity to bring more funding into the region.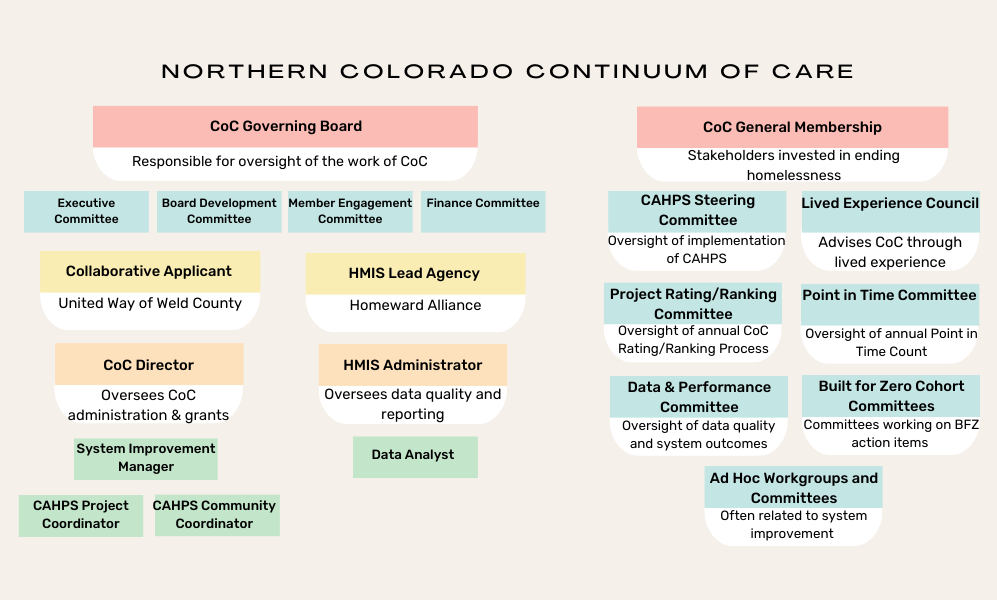 Overview of CoC Structure
Governing Board: The Northern Colorado CoC Governing Board acts on behalf of the membership of the NoCO CoC. The Governing Board will formally approve any decisions recommended by the membership (voting members and stakeholders) or committees as well as be responsible for ensuring the CoC is compliant with requirements of HUD and the CoC process.
Committees and Workgroups: Much of the work of the NoCO CoC will occur in committee and workgroup meetings. Specific committees are established as needed to fulfill the expectations and requirements of the CoC process, as well as make progress towards our community's established goals.
General Membership: Participation in the CoC is open to any individual or agency choosing to be regularly involved in the NoCO CoC's work. CoC Partners are expected to be those entities or individuals who have an interest in or affiliation with Northern Colorado communities and/or organizations, and whose work is a part of the overall response to homelessness in the region. Individuals and Agencies become formal CoC Partners by signing a CoC Membership Agreement.
Coordinated Assessment Housing Placement System (CAHPS): CAHPS serves as the Coordinated Entry process for Larimer and Weld counties to ensure that individuals and families experiencing homelessness are identified, assessed for their needs and vulnerabilities, and connected to permanent housing resources and supports as quickly as possible. The NoCO CoC supports the implementation of this process by managing a cross-county by-name list of households currently experiencing homelessness and facilitating multiple weekly case conferencing attended by more than 40 service providers and housing programs to coordinate housing plans.
Homeless Management Information System (HMIS): A Homeless Management Information System (HMIS) is a local information technology system used to collect client-level data and data on the provision of housing and services to homeless individuals and families and persons at risk of homelessness. The NoCO CoC is responsible for selecting an HMIS software that complies with HUD's data collection, management, and reporting standards (Bitfocus Clarity). Additionally, using HMIS, the NoCO CoC supports the collection of comprehensive, quality homelessness data across Larimer and Weld counties to inform our work.
Collaborative Applicant and HMIS Lead Agencies: The federal Housing and Urban Development (HUD) Continuum of Care Program, which governs the structure and requirements of Continuums of Care across the nation, as outlined in 24 CFR Part 578 (CoC Program Interim Rule) of the code of federal regulations. In order to effectively liaise between the local CoC and HUD, CoCs must designate a Collaborative Applicant that is responsible for carrying out the administrative responsibilities of the CoC, as well as an HMIS Lead agency that is responsible for supporting the regional implementation of a Homeless Management Information System (HMIS). In Northern Colorado, United Way of Weld County serves as our Collaborative Applicant and Homeward Alliance serves as our HMIS Lead Agency.
What is the definition of "Homeless"?
The Department of Housing and Urban Development (HUD) defines "homeless" in four categories:
Literally Homeless: an individual or family who lacks a fixed, regular and adequate nighttime residence. This includes residences not designed for permanent habitation including, but not limited to, cars, parks, abandoned buildings, buses, camping grounds, emergency shelters, hotels/motels paid by public or private agency due to homelessness, and transitional housing.
Imminent Risk of Homeless: family who will imminently lose their primary nighttime residence and who lack resources or support networks to obtain other permanent housing
Homeless Under other Federal Statutes: Unaccompanied youth and homeless families with children and youth defined as homeless under other Federal statutes who have experienced a long-term period without living independently in permanent housing, have experienced persistent instability as measured by frequent moves over such period, and can be expected to continue in such status for an extended period of time because of chronic disabilities, chronic physical health or mental health conditions, substance addiction, histories of domestic violence or childhood abuse, the presence of a child or youth with a disability, or multiple barriers to employment.
Fleeing or Attempting to Flee Domestic Violence: individual or family who is fleeing or attempting to flee domestic violence who lacks the resources or support to obtain other permanent housing.
However, the HUD definition of homeless fails to capture individuals and families who are "doubling up" or "couch-surfing".
What is the Point in Time Count?
The Point in Time (PIT) Count is a count of sheltered and unsheltered people experiencing homelessness on a single night in January, required by the Department of Housing and Urban Development (HUD). The PIT Count data is submitted to HUD and is included in the annual homelessness report to Congress. View our PIT Count Data
WHAT DOES "CHRONIC HOMELESSNESS" MEAN?
The Department of Housing and Urban Development (HUD) defines a chronically homeless person or family as an individual or family that:
"is homeless and lives or resides in a place not meant for human habitation, a safe haven, or in an emergency shelter;
has been homeless and living or residing in a place not meant for human habitation, a safe haven, or in an emergency shelter continuously for at least 1 year or on at least 4 separate occasions in the last 3 years; and
has an adult head of household (or a minor head of household if no adult is present in the household) with a diagnosable substance use disorder, serious mental illness, developmental disability (as defined in section 15002 of this title), post traumatic stress disorder, cognitive impairments resulting from a brain injury, or chronic physical illness or disability, including the co-occurrence of 2 or more of those conditions"
WHAT IS PERMANENT SUPPORTIVE HOUSING (PSH)?
Permanent supportive housing refers to long-term, low-barrier, affordable housing with supportive services that enable special needs populations to live as independently as possible in a permanent setting.
WHAT IS RAPID REHOUSING (RRH)?
Rapid re-housing rapidly connects families and individuals experiencing homelessness to permanent housing through tools such as time-limited financial assistance and targeted supportive services.
WHAT IS HMIS?
A Homeless Management Information System (HMIS) is a local information technology system used to collect client-level data and data on the provision of housing and services to homeless individuals and families and persons at risk of homelessness.
Learn More
WHAT IS CAHPS?
CAHPS stands for Coordinated Assessment Housing Placement System and it serves as northern Colorado's coordinated entry system. Coordinated entry works to ensure that people experiencing homelessness are identified, assessed, and connected to housing as quickly as possible through a collaborative community-wide process.
Learn More
WHERE DO THE NOCO COC AND CAHPS OPERATE?
The NoCO CoC operates in Larimer and Weld Counties, Colorado. Our coordinated entry system, CAHPS, is intended to assist households experiencing homelessness in Larimer and Weld Counties.
WHAT IS THE COC NOFO?
The NoCO CoC oversees the HUD Continuum of Care Program Notice of Funding competition, often referred to as the NOFO. The CoC NOFO brings in about $1.5 million in funding for renewal and new permanent supportive housing, rapid rehousing, coordinated entry, and HMIS projects in northern Colorado.
Learn More
What is Housing First?
Housing First is a homeless assistance approach that prioritizes providing permanent housing to people experiencing homelessness, thus ending their homelessness and serving as a platform from which they can pursue personal goals and improve their quality of life. This approach is guided by the belief that people need basic necessities like food and a place to live before attending to anything less critical, such as getting a job, budgeting properly, or attending to substance use issues. Additionally, Housing First is based on the understanding that client choice is valuable in housing selection and supportive service participation, and that exercising that choice is likely to make a client more successful in remaining housed and improving their life.
HOW IS HOUSING FIRST DIFFERENT FROM OTHER APPROACHES?
Housing First does not require people experiencing homelessness to address the all of their problems including behavioral health problems, or to graduate through a series of services programs before they can access housing. Housing First does not mandate participation in services either before obtaining housing or in order to retain housing. The Housing First approach views housing as the foundation for life improvement and enables access to permanent housing without prerequisites or conditions beyond those of a typical renter. Supportive services are offered to support people with housing stability and individual well-being, but participation is not required as services have been found to be more effective when a person chooses to engage. Other approaches do make such requirements in order for a person to obtain and retain housing.
WHO CAN BE HELPED BY HOUSING FIRST?
A Housing First approach can benefit both homeless families and individuals with any degree of service needs. The flexible and responsive nature of a Housing First approach allows it to be tailored to help anyone. As such, a Housing First approach can be applied to help end homelessness for a household who became homeless due to a temporary personal or financial crisis and has limited service needs, only needing help accessing and securing permanent housing. At the same time, Housing First has been found to be particularly effective approach to end homelessness for high need populations, such as chronically homeless individuals.
What are the elements of a housing first program? Housing First programs often provide rental assistance that varies in duration depending on the household's needs. Consumers sign a standard lease and are able to access supports as necessary to help them do so. A variety of voluntary services may be used to promote housing stability and well-being during and following housing placement.
Two common program models follow the Housing First approach but differ in implementation. Permanent supportive housing (PSH) is targeted to individuals and families with chronic illnesses, disabilities, mental health issues, or substance use disorders who have experienced long-term or repeated homelessness. It provides longterm rental assistance and supportive services.
A second program model, rapid re-housing, is employed for a wide variety of individuals and families. It provides short-term rental assistance and services. The goals are to help people obtain housing quickly, increase self-sufficiency, and remain housed. The Core Components of rapid re-housing—housing identification, rent and move-in assistance, and case management and services—operationalize Housing First principals.
DOES HOUSING FIRST WORK?
There is a large and growing evidence base demonstrating that Housing First is an effective solution to homelessness. Consumers in a Housing First model access housing faster and are more likely to remain stably housed. This is true for both PSH and rapid re-housing programs. PSH has a one-year housing retention rate of up to 98 percent. Studies have shown that rapid re-housing helps people exit homelessness quickly—in one study, an average of two months—and remain housed. A variety of studies have shown that between 75 percent and 91 percent of households remain housed a year after being rapidly re-housed.
More extensive studies have been completed on PSH finding that clients report an increase in perceived levels of autonomy, choice, and control in Housing First programs. A majority of clients are found to participate in the optional supportive services provided, often resulting in greater housing stability. Clients using supportive services are more likely to participate in job training programs, attend school, discontinue substance use, have fewer instances of domestic violence, and spend fewer days hospitalized than those not participating.
Finally, permanent supportive housing has been found to be cost efficient. Providing access to housing generally results in cost savings for communities because housed people are less likely to use emergency services, including hospitals, jails, and emergency shelter, than those who are homeless. One study found an average cost savings on emergency services of $31,545 per person housed in a Housing First program over the course of two years. Another study showed that a Housing First program could cost up to $23,000 less per consumer per year than a shelter program.
DOWNLOAD THE FACT SHEET