Coordinated Assessment Housing Placement System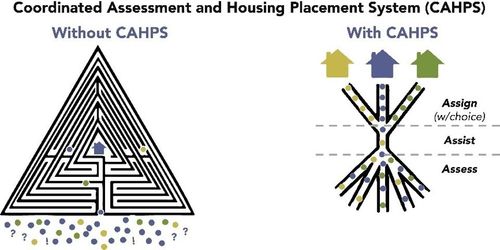 About
The Northern Colorado Coordinated Assessment Housing Placement System (CAHPS) began in 2016 as an experiment to try and collectively house 100 veterans experiencing homelessness, but has grown into a system built around the goal of ending all homelessness in Weld and Larimer counties through the active engagement and collaboration of more than 40 community agencies and organizations, "CAHPS Partners".
CAHPS is a function of the Northern Colorado Continuum of Care (NoCO CoC) as mandated by the U.S. Department of Housing and Urban Development (HUD) and serves as Larimer and Weld county's coordinated entry process. The coordinated entry process is a system developed to efficiently and effectively connect the most vulnerable people to appropriate interventions that will rapidly end their homelessness.
Coordinated Entry is made up of four core elements: access, assessment, prioritization, and referral. CAHPS partners use one specific assessment tool, work together to serve clients in northern Colorado as "everyone's client", and assign available housing resources through cross-agency case conferencing. The primary objective of CAHPS is to ensure that the highest need, most vulnerable households in the community are prioritized for the most appropriate housing interventions.
Access Points for CAHPS
Access points are strategic locations, either virtual or physical, for individuals and families experiencing homelessness and in need of assistance interacts with the coordinated entry process. Access Points are most often an agency or organization where people experiencing homelessness or housing instability seek social services and resources. Access Points administer the designated CAHPS assessment tool.
CAHPS Access Points engage in low-barrier, housing first practices, maintaining privacy and security of personally identifying information, understanding CAHPS priorities and practices, and embracing the idea that each household experiencing homelessness are all "our clients".
People experiencing homelessness can speak to a Resource Navigator or Housing Navigator to assess their CAHPS eligibility at any of these locations.
We are a Built for Zero Community
Reaching Functional Zero
In 2019, through CAHPS, Northern Colorado became a Built for Zero Community, a initiative of Community Solutions for communities to reach Functional Zero homelessness by obtaining quality data and implementing key system improvements.
Functional zero is the milestone Built for Zero uses to indicate that a community has measurably solved homelessness for a population. Attaining functional zero for a population indicates that homelessness is rare and brief for that population.
Functional zero is a threshold that is the average number of people exiting homelessness in a month. Functional zero means that the number of people experiencing homelessness at any time does not exceed the amount the community is able to house that month.
Achieving functional zero indicates that the system is preventing homelessness, quickly detecting homelessness when it occurs, and permanently and promptly resolving incidents of homelessness.
WHAT KIND OF ORGANIZATIONS ARE CAHPS PARTNERS?
The CAHPS is successful because of the robust network of community partners who believe in the importance of housing people to end their homelessness. CAHPS Partners include homeless direct service providers, like emergency shelters, resource navigators, day centers, and street outreach programs, housing programs, mental and behavioral health providers, re-entry and justice system case managers, emergency services, victim service providers, among many others.
WHAT KIND OF HOUSING ASSISTANCE IS AVAILABLE THROUGH CAHPS?
Individuals or families who have been assessed and are active on the CAHPS by-name list may be eligible to be referred to certain housing resources specifically dedicated for those experiencing homelessness. These include but are not limited to: Rapid Rehousing, Permanent Supportive Housing, other housing vouchers.
WHAT IS A "BY-NAME LIST"?
Our "By-Name List" serves as the dynamic community list of people currently experiencing homelessness who have been identified as being literally homeless and/or fleeing or attempting to flee domestic violence, and who have completed the community housing assessment known as the Vulnerability Index-Service Prioritization and Decision Assistance Tool (VI-SPDAT).
The by-name list is used to organize households in need of assistance to ensure that the most vulnerable households receive appropriate interventions to quickly end their homelessness.
WHAT IS THE VI-SPDAT?
VI-SPDAT stands for Vulnerability Index-Service Prioritization and Decision Assistance Tool. It is a standardized assessment that can provide a basic level of understanding of a particular household's strengths and barriers to obtaining permanent housing. The VI-SPDAT is only one tool among many to help CAHPS determine what kind of available housing resource could be appropriate for a particular household.
WHERE IS THE BY-NAME LIST KEPT AND CAN I GET A COPY OF IT?
The CAHPS By-Name List (BNL) is kept within the Homelessness Management Information System (HMIS) shared database, with the exception of households receiving support from a Victim Service Provider. Victim Service Providers maintain a separate BNL using unique identifiers to maintain confidentiality. CAHPS Partners update client information on the BNL on a regular basis to ensure that the list is as accurate and comprehensive as possible.
In order to have access to the BNL and case conferencing, organizations must sign a CAHPS Partner Agreement, identify a CAHPS Liaison, and complete required training.
WHAT IS CASE CONFERENCING?
Case Conferencing are weekly problem-solving meetings, that bring key CAHPS partners together to collaborate on ways to remove barriers to help house clients faster.
WHO OVERSEES AND EVALUATES CAHPS?
The CAHPS Steering Committee is a permanent committee of the NoCO CoC responsible for the oversight of CAHPS implementation. o Activities of the CAHPS Steering Committee include, but are not limited to:
Assisting in the development, review, and submission of recommendations to the NoCO CoC Governing Board annually
Conducting the annual evaluation of the system
Monitoring HUD compliance
Reviewing complaints about local processes
The development of CAHPS Policies and Procedures
Why Should You Get Involved?
Persons at risk of or experiencing homelessness are able to:
Locate housing or services they need faster;
Be referred only to projects that they are likely eligible for;
Get access to projects once referred;
Appeal rejections by projects through a transparent procedure
Housing and supportive services projects are able toy:
Avoid inappropriate or ineligible referrals for their projects;
Better manage prospective project participants through a centralized prioritization list;
Comply with CoC Program and ESG Program requirements
Public and private funders are able to:
Be confident that housing and supportive services projects are serving the intended people ("side doors" to projects are closed);
See increased compliance with eligibility requirements;
Have access to better data for system and project planning;
Experience improved reporting
The CoC is able to:
Identify areas for improvement and take action on better outcomes specific to McKinney-Vento Act system measures
Comply with CoC Program and ESG Program requirements
Identify areas for improvement and take action on increased efficiency of local crisis response activities
Improve fair access and ease of access to resources, including mainstream resources
Improve data for system and project planning and resource allocation to facilitate system change
Standardize understanding of who will be served, which will help system and project monitoring